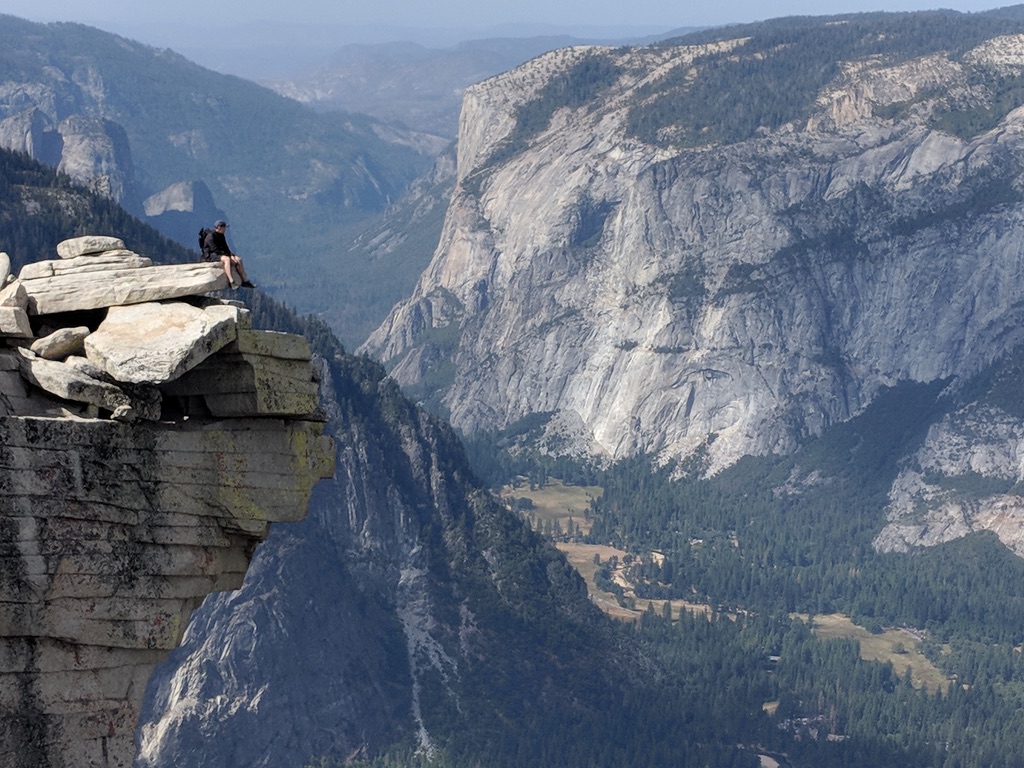 After 7 miles and 4,800 feet in elevation gain, this was the most satisfying view of my life.
San Francisco → Yosemite
We left on Friday afternoon. Everyone had taken off early from work, so we could get an early night sleep at our cabin. Google Maps told us to expect a 3.5 hour drive. But after traffic, the short road trip ended up being close to 5 hours long.
On the way, we stopped by a grocery store to pick up dinner for the night. Plus snacks and meals for the hike. This was my first long hike, so I had a few questions for the experienced hikers. How much should we eat for dinner and breakfast? Carbs or fats? What's the restroom and toilet paper situation during the hike? Rocks were the answer for that last question. That had to be a joke.
At the cabin, we had dinner and slept early around 8pm. The alarm was set for 4am.
Half Dome
After parking the cars and walking away, we went back to make sure no snacks were left behind. Had to make sure bears weren't interested in our cars. I brought a headlamp, which was super useful since the sun wasn't up yet.
We took the Mist Trail going up. It passed Vernal and Nevada Falls, where most of the mist comes from. Honestly, even a short hike to these falls would have been enough for me. The waterfalls were beautiful. The trail included half a mile of huge granite steps, each step was maybe two feet tall. The steps were slippery from the mist.
After the falls, the hike felt drawn out at times. I zoned out. We took a few breaks to snack on our candy (gummies!) and nuts. I was already tired by the time we reached the cables.
At first glance, the Half Dome Cables were slightly frightening. It looked like a long line of ants, going up an almost vertical wall. It was a slog getting up. The hardest parts came from maneuvering around groups taking breaks. On the way up, everyone got plenty words of encouragement from the hikers heading down. A lot of "you're almost there"! We all brought heavy duty gloves, which helped with gripping the cables.
After 7 miles and 4,800 feet in elevation gain, we finally made it to the top! It was extremely windy. The view of the entire valley was amazing. We all took photos at the peak, everyone was being extra cautious — reminding everyone else to please not fall off. We also had our lunch here, some packed breakfast burritos.
On the way down, we took the John Muir Trail which was less steep and easier on our knees. The entire hike was about 14.5 miles round trip.
Camp 4 Bouldering
The next day, we went to Camp 4 for a quick bouldering session. I was extra excited to come here, especially after watching Valley Uprising. I got to see the famous Midnight Lightning problem!
I felt completely out of my league here. Outdoor bouldering was tough. What guidebooks called jugs here felt more like crimps. We nicknamed them the "Yosemite Jug". Can't wait to come back after a few more years of climbing though!